The #IFRS17hacks that are saving Insurance firms 420+ hours of external cost and 12-months of internal resource effort that guarantees optimal financial design and dry run inside 12 weeks warrants sharing for the betterment of the industry.
And to clarify, these are hacks that are already happening today for several insurance firms and delivering optimal financial reporting results inside 12 weeks.
Those four IFRS17 areas we're hacking are People, Operations, Datasets, Systems. (PODS)
We have taken each of the core functions that comprise a delivered IFRS17 project and resolved how, where and when to hack each quadrant to guarantee optimal financial reporting inside 12 weeks to minimise the cost, stress, impact on business continuity and pull on your internal resources all while making some serious progress on IFRS17.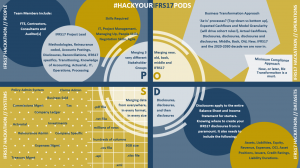 The quadrants make sense, and the hacks within each quadrant make even more sense, but wondering how to connect those dots specifically for your organisation?
We've done this enough times that an actual #IFRS17Hack framework emerged. One that is duplicable and repeatable. We were invited to share that framework with an insurance firm back in August 2019 which prompted us to make the #IFRS17hack framework far more accessible to the industry given the significant value these hacks provide.
You can find out more about that complimentary 2hr session by clicking on any part of the image below.